Whiptail Wishes Granted!
As you may recall, last week I was wondering where all of the Coastal Whiptail (Aspidoscelis tigris stejnegeri) were and hoping that my blog post might serve as a lizard "rain dance" of sorts and bring some my way. Well, I still haven't seen any here in the canyon, but I did get my wish…
I had the pleasure of accompanying some of my out-of-town relatives on an afternoon walk at the Rancho Santa Ana Botanic Garden today. This lovely botanical garden is entirely focused on the native plants of California and is a wonderful destination for any nature lover. We actually saw several (at least 3 or 4) whiptail, which is far more than I can ever recall seeing at the garden before. Mostly we saw them scurrying off the side of the main path, busily foraging in the leaf litter. But, the spectacular lizard pictured here was coming right down the path towards us. Everyone stopped and stood very still — possibly due to my bossy instructions for everyone to stay put and please let me try and get a few photos before it hurried off. Apparently I needn't have worried, because as if on cue, the lizard stopped directly in front of us and then pressed its belly down on the warm earth and calmly rested for a minute or so. More than enough time for us all to get a good look and for me to get a few nice images!

As always, you can click on the above pictures to see a larger image, but I thought it was worth showcasing a few details that I thought were super cool…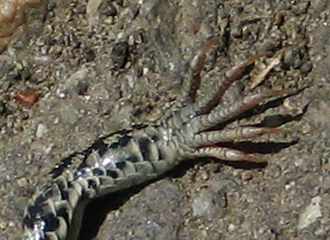 Would you look at the length of the claws on the front feet!!!
Did I mention that these guys are very good diggers?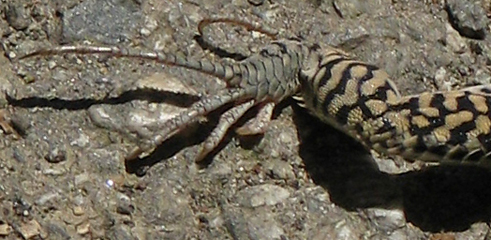 Of course, that's nothing compared to the length of the back claws!!!
Perhaps this lizard just ate a large meal, but looking at the photos I took, I couldn't help but wonder if this might be a pregnant female? The abdomen seems awfully plump and the bulges on the sides look a little lumpy and… hmmmm… egg-like? According to CaliforniaHerps.com, eggs are typically laid between the months of April and August, so it's certainly within the realm of possibility.