When I opened my eyes this morning, it took me a moment to reconcile the sound.
Rain?!
That didn't seem very likely… I sat up and let the fog of sleep drift further away.
It is rain! What the heck? It's raining!
Not a lot, mind you… Just enough to dapple the brown earth and make the air smell moist and alive. But, here in the canyon at the tail-end of July, any rain at all is a rarity and I was grateful for it. I'm quite certain that the wildlife shared my elation as well.
The sky was overcast and lovely for much of the day, but by late afternoon when I finally got clear of the "to do" stuff on my list and went out for a walk, the big clouds had mostly retreated and were accumulating over the peaks of the San Gabriels.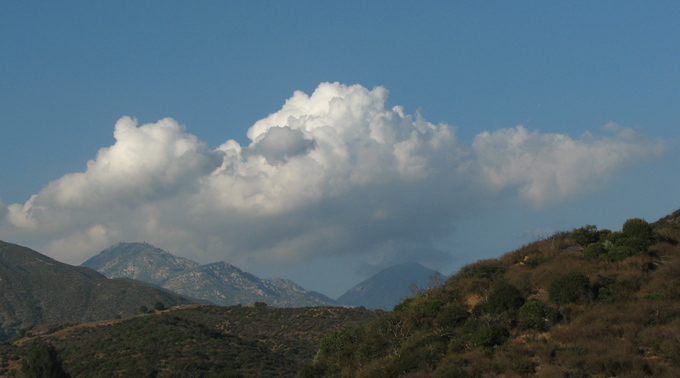 I walked down to the oak woodland area that parallels the road. It was hot and humid and the bitey flies were out in force looking for a meal. (I'm not sure if we are as tasty as the main course — the local Mule Deer — but that certainly doesn't stop them from sampling.) Fortunately, I had good company and was happy to be out despite the constant waving and swatting.
Previously, I had mentioned that our seasonal creek has completely dried up in several spots. I thought it might be interesting to illustrate this and so I searched through my photos to see what I could find. The picture on the left was taken in early February of this year. This spot along the creek forms a large, slow-moving, shallow pool that is always a favorite congregating spot for the breeding Coast Range Newts (Taricha torosa torosa). The picture to the right was photographed just last week, and as you can clearly see, the ground is little more than damp now.

Tomorrow's post will feature a bunch of pics of the Mule Deer who can (with increasing frequency) be found resting and browsing for food in the relatively cooler, shadier areas around our cabin. In truth, I meant to share them with you today, but (like the female pictured below) I ran out of steam and decided to take it easy instead. I hope everyone else is finding ways to beat the heat and still enjoy some time outside!