The Tiger and The Coyote
One of the definite highlights of my trip to El Dorado Regional Park a couple weeks ago was a beautiful Western Tiger Swallowtail (Papilio rutulus) which repeatedly landed on a close-by patch of Monardella sp. (commonly referred to as Coyote Mint) and then stayed there like someone was paying it to do so. For me and my fellow arthropod enthusiast (Chris), this was like hitting the jackpot.
These butterflies are impressively large, but in my experience, they have a frustrating habit of flying around in large circles, then landing just long enough for you to lock in your camera settings and get them framed nicely. Then, you go to press the shutter and find that there's no butterfly in the viewfinder anymore. Where did it go?! you mutter to yourself… You look around, spy it landing on another flower a little ways off, and the process starts all over again.
But… not this particular butterfly. It seemed quite smitten with this one small grouping of flowers and though it often flitted away for a few seconds, it reliably came back to the same spot over and over again, giving us both ample opportunity to get many photos in a row and even play around a bit with our viewing angle and composition. It was heavenly!!!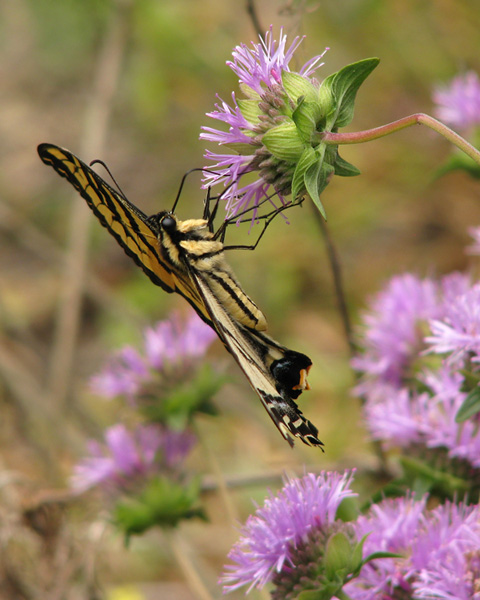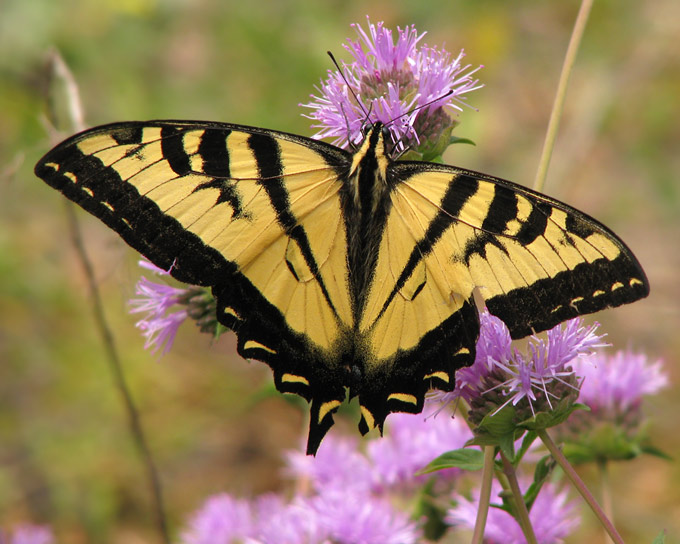 As is so often the case when I sit down to closely examine my nature images, I discover things that would be very difficult (or impossible) to discern in the field. As I began preparing the photos for this post, I was definitely working under the presumption that I had only photographed a single butterfly. Somehow, the repeated act of it returning to the exact same group of flowers just made me (and I'm guessing Chris too) presume that it was the same swallowtail each time. Apparently… not so!! If you look closely at the images, you can see that there are several notches on the edge of the upper wing of the first butterfly (probably caused by a close call with a hungry bird?) that are not found on the butterfly in the remaining images. Also, if you check out the side-by-side comparison shot I put together below, you can see the subtle differences in the markings themselves.
I am indebted to Chris for his help in providing me with an ID for the lovely purple flowers. Also, he has put up a wonderful post of his own about our day together at El Dorado — check it out!
If you missed my previous posts about my trip to El Dorado, you can read them here and here.