Spring Snakes (Part I)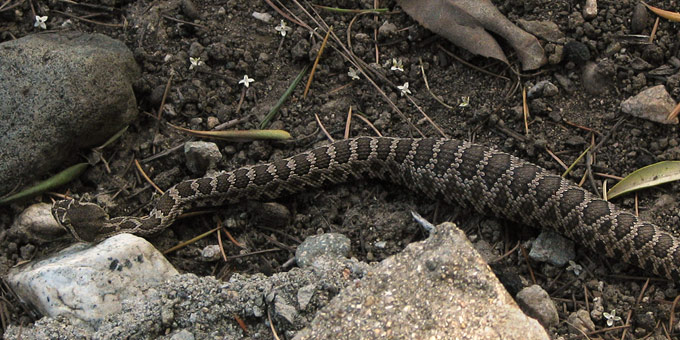 Southern Pacific Rattlesnake (Crotalus oreganus helleri)
This past Friday afternoon, we were leaving the house to run a few errands. I scanned the steps before walking down them (as I have learned to do) and quickly spotted this immature rattlesnake. It was on the small size at about a foot long, though I have certainly seen them smaller. It was perfectly still and — despite being relatively out in the open — its cryptic coloration made it difficult to pick out from the background. After grabbing a long stick that I keep on the porch (for just such reasons), I carefully walked past it, making sure to lead with the stick. I have NEVER had a rattlesnake try to bite me or be in any way aggressive, but if I have to get this close to them and for some reason the snake were to feel threatened, I think it's smart to give them something to strike at (other than my foot). As is often the case, this snake didn't seem the least bit concerned by me, and once I was a few feet passed it, I stopped to have a good look and take some pictures. The first thing I noticed was the obvious bulge in its abdomen. According to my favorite website, California Herps, Southern Pacific Rattlesnake eat "birds, lizards, snakes, frogs, insects, and small mammals, including mice, rats, rabbits, hares, and ground squirrels". Knowing what's readily available around our porch and the size of the snake, I would not be at all surprised if its last victim had been a fence lizard (a Great Basin Fence Lizard, Sceloporus occidentalis longipes, to be exact). That's just speculation, of course, we also have good-sized populations of several of the other prey animals on that list. A mouse would be entirely plausible too.) I had never observed a snake in the process of digesting a meal before and I was tickled to be able to get a few photos. Fortunately, when we returned home an hour or so later, this little one had moved on to a less trafficked area.
Just for fun, I thought I'd include this image I took before I headed down the steps. Can you see the snake? If you can't, click on the image to see a highlighted version… Oh, but it would be so much easier if they were neon yellow! (*chuckle*) Well, easier for me! Undoubtedly much harder on the snake, who makes its way in the world by being difficult for both predators and prey to see.