Relaxin' Weekend?
The Red-eared Slider (Trachemys scripta elegan) is native to many parts of the southern United States, but here in California it is an introduced species.
Today I met up with my friend Chris to explore El Dorado Regional Park in Long Beach. We saw so many fantastic birds, arthropods and other critters! I had a really great time… though after a couple hours of walking around, I had to concede that I was a tad jealous of how completely r-e-l-a-x-e-d some of the turtles looked. *GRIN*
Hoping that everyone else found something wonderful to do today that left you tired and happy!
***BONUS PHOTOS***
Turtle lounge deck extraordinaire!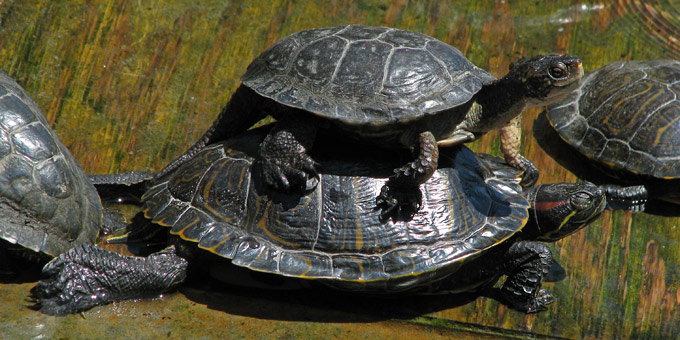 It's surprising to me how amicable some turtles were about being climbed on and used as a sunning spot by other smaller turtles.
*Click on the image to see a close-up of their seemingly happy and blissful expressions.*
I'm still searching for a positive ID on the smaller turtle in this shot… anyone reading this have an idea of which species it is?