Before moving to our cabin here in the canyon, I never had the opportunity to observe the Tailed Copper (Lycaena arota). E-nature.com  states that the species' range extends from "S. Oregon south to S. California, east to edge of Great Plains, north to S. Wyoming, and south to central New Mexico." They are not uncommon butterflies, but are reportedly often very localized in their distribution which may make them more difficult to find. According to Jeffrey Glassberg's Butterflies Through Binoculars: The West, they are "most frequently encountered along streamsides and other water courses through foothill woodlands, but also in chaparral and oak openings, sagebrush steppes, and high mountain meadows." Fred Heath's An Introduction to Southern California Butterflies makes specific mention of their fondness for "well-watered mountain canyons … such as Little Dalton Canyon & Evie Canyon" (located west and east of our home, respectively). I wouldn't say that I have ever seen large numbers of this species, but every year (reliably!) there are a few that camp out near the house and can be seen from late May into July.
The above image shows the ventral (underside) view of a male (left) and female (right). While these two individuals' coloration look somewhat distinct, I don't actually believe that you can tell the sexes apart from this view.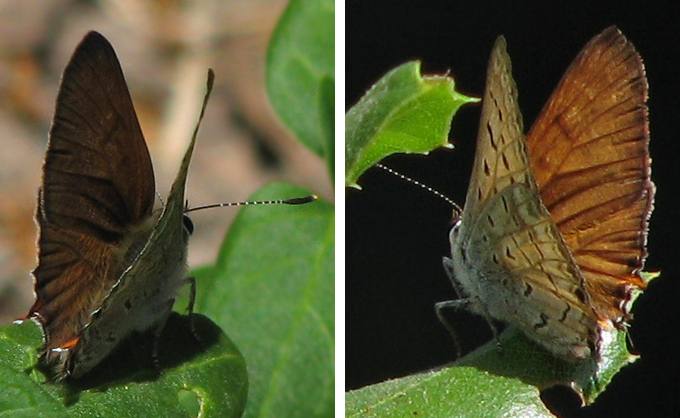 As can be seen in this image showing the dorsal (topside) view of a couple of males, they are usually a brown/copper color with an occasional purplish tinge and not much in the way of distinctive patterning.
I've seen many males, but thus far, only one female. I felt I was lucky to be able to get these few nice images of her nectaring at Toyon (Heteromeles arbutifolia). If you can get a clear view of the dorsal surface, the orange-y wing pattern is quite distinctive.
While adult butterflies will nectar at a number of different kinds of plants, their larva is dependent on those in the Ribes genus — specifically gooseberry and currant. Here are a few of the varieties growing here in the canyon. (I confess that I don't have firm IDs for these yet… my ability to identify plants to species is still a work in progress.) While I have searched through foliage many times in early Spring, hoping for the opportunity to find the eggs and/or caterpillars to photograph and observe, I have yet to be successful. I couldn't even find an online photo of their larva to show you, so my guess is that they are not so easy to discover. E-nature.com describes them as follows, "caterpillar green, darker toward head, with fine double white line down back, yellowish line down side, and covered with minute yellowish-white hair".
At about 1-inch in size, they are among the smaller butterflies in this area. Fortunately, the males have a very conspicuous habit of choosing an elevated perch (such as a small shrub) and then patrolling the area, investigating any passing insect (or other critter), presumably in the hopes of finding or attracting a female.
If you live an area where these butterflies do, I'd love to hear your experiences with them. And, if you have yet to find one for yourself, I hope this post will prove helpful!