Have you ever thought of the words "fly" and "beautiful" in the same sentence? No?!
Well, let me introduce you to Allograpta obliqua…
Nectaring on Pyracantha (Pyracantha angustifolia) flowers.

Nectaring on Mustard (Brassica sp.) flowers.
Allograpta obliqua can be found throughout much of North America and is a member of the family Syrphidae, collectively known as Flower Flies or Hover Flies. These names are very fitting as this fly visits a wide variety of flowers to collect nectar and is also an expert flyer with the ability to hover in one place, move sideways or backwards in flight. In addition to the fact that it is a joy to watch and is completely harmless to humans, this is a great fly to have around one's garden. By visiting flowers it assists in pollination and it also lays its eggs on plants with aphid colonies, which are decimated by the fly's predacious developing larvae.
This is a male. See how its eyes come together and touch at the top of its head?
The females (as shown in the first and second photo) have eyes which are separated at the top.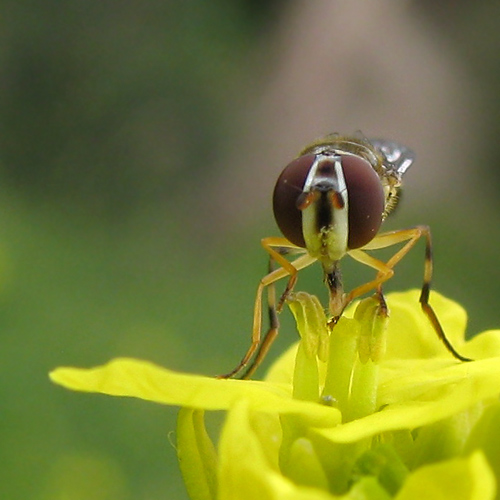 Here you can see the long mouthparts that the fly uses to effectively "lap up" the nectar and pollen.
Nectaring on Buckwheat (Eriogonum sp.) flowers.
A face only a mother could love? *grin*
Well, I find them quite charming and they are a pleasure to photograph.
Check-out your garden or wildflowers along the trail for these endearing flies — they should be flying now!