Counting animals in the field can be tricky. They have a habit of not staying still.
Oh sure, I've tried explaining to the newts cruising around the creek that it would be very helpful if they could just stay in the same place long enough for me to get past number 5 or 6 before I become hopelessly confused and have to start over again. But, well, you know how willful and restless a newt can be, right??! *GRIN*
One of the many wonders of photography is that it affords me the option of sitting in front of my computer to study images taken in the field that will give me accurate data. In many cases, far more accurate, than my attempts at eyeballing a large group in person. As I count, I mark each critter with a red dot so that I know if I missed anyone and to make certain that I don't double-count by accident.
In spring of 2010, at the Robert J. Bernard Biological Field Station, several ponds were teeming with newly hatched California Toads. Here's what SEVENTY of these tiny hoppers looked like: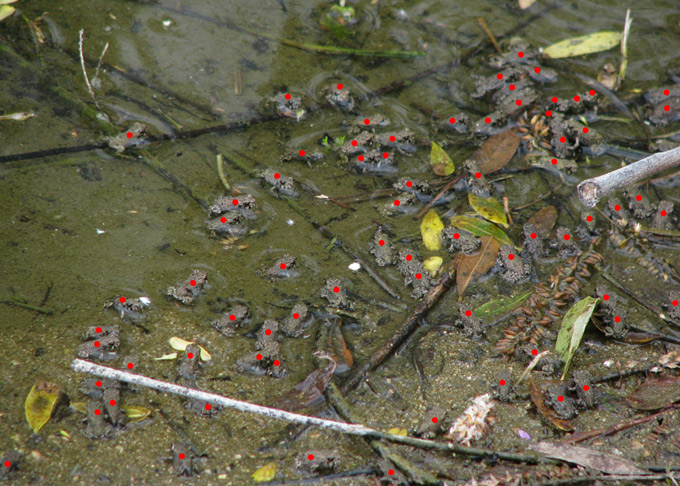 This past March, I saw a large herd of Mule Deer grazing in the horse pasture here in the canyon. I thought it might be the most numerous group I'd ever seen… turns out I was right! There are a total of NINETEEN in this image. I'm curious if anyone else has ever seen a larger herd of Mule Deer than that?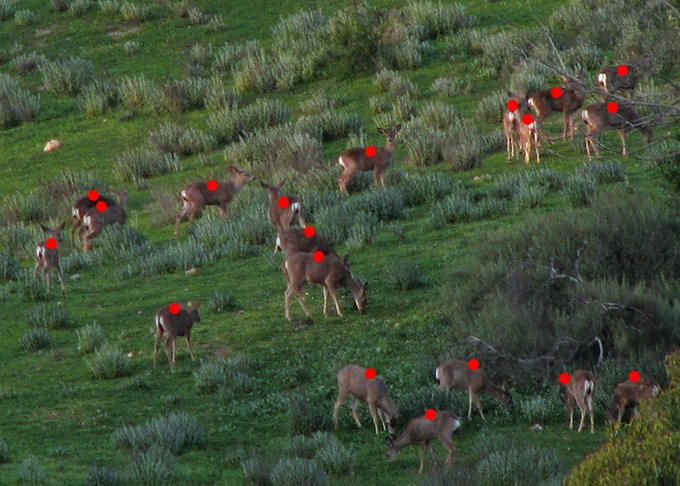 Some of the numbers I come up with are less impressive, but the information still fascinates me… Bees and wasps are frequent visitors to any local water source, especially as temperatures go up and humidity levels start to plummet. I watched intently as several identical-looking bumble bees repeatedly returned to the same spot next to the creek. They were zipping in and out of there so fast though that I wasn't sure just how many I was watching. The answer was SIX!
Of course, at the end of the day — especially a really, really, long day when you're more than a little stir-crazy from being stuck inside with the flu — you can even have fun counting to ONE.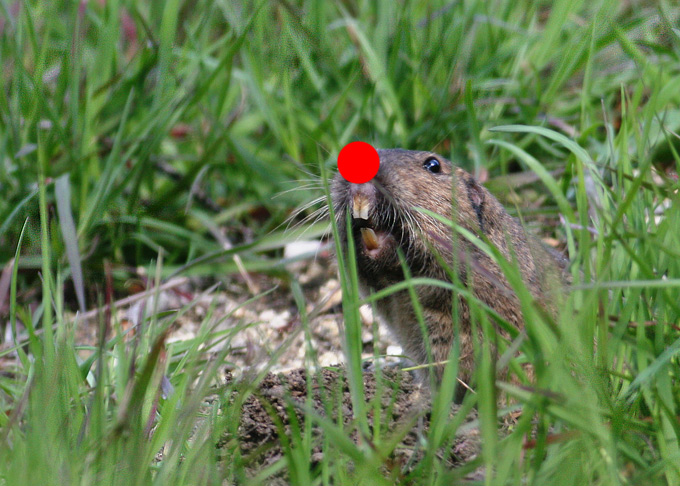 Final bit of amusement courtesy of one of the local Botta's Pocket Gopher… I know that many people have nothing but contempt for these little guys, but I can't imagine holding a grudge against this industrious digger… that expression melts my heart every time!